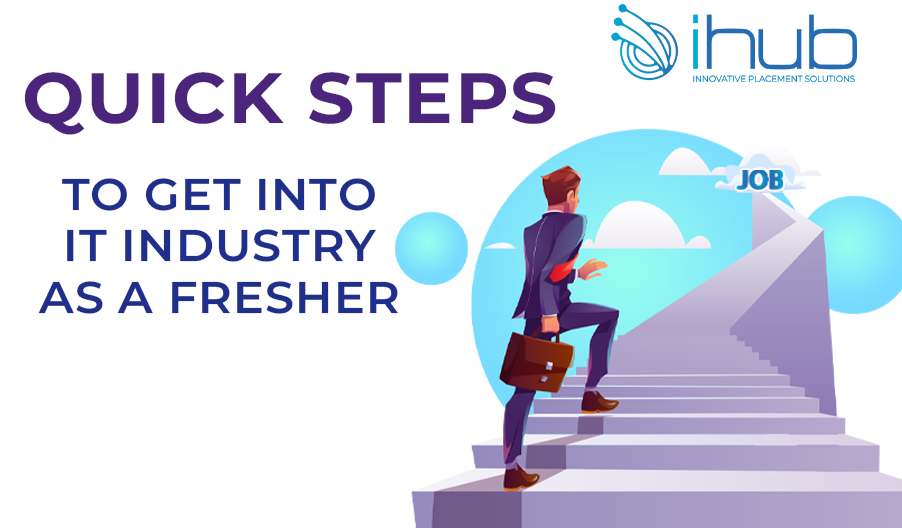 Quick steps to get in to IT industry as fresher
We are all aware that the worldwide pandemic has altered the whole landscape of jobs and enterprises throughout the world. We've witnessed a variety of unfavourable events around us, such as layoffs, a shortage of job vacancies, wage cuts, and so on. However, the IT business is one of the few industries that is still delivering various job options to workers and appears to be quite robust in terms of future growth and employment chances. That is maybe why the majority of people are eager to enter the IT profession.
Let's look at the figures below to have a better understanding:
The yearly revenue of India's IT sector is estimated to be approximately $350 billion by 2025.
Over 200 Indian IT companies are already active in approximately 80 countries throughout the world.
Cloud, AI, and other technologies are predicted to be used by more than 80% of worldwide enterprises by the end of 2022.
All of these facts and numbers show that the IT business has a lot more to offer in terms of a successful career. Now comes the subject of how to find a job in the IT business in recent times precisely as a fresher.
So you must realize that there is no exact science or magic involved — all you have to do is climb the ladder step by step. In general, you must step outside of your comfort zone, prioritize tasks, and employ the appropriate tactics and mentality. And if you're still left with issues like 'Where and how to start,' etc., don't worry since we'll go over the strategic ways in-depth, from the start until the end, to obtain a job in the IT industry in this article.
Okay, let us first break the entire process into four steps:
Identify an industry that requires your skill sets.
Look for the right mentorship which applies hands-on learning.
Apply the skillset and create a portfolio of projects.
Build an outstanding resume using related keywords.
You are all set to embark a career that not only pays you well but also keep your career shine and secure. Ihub innovative placement solutions setting a smooth path to your first IT job by offering diverse and trending course option from Testing Tools, Python Full Stack, Java, Go Programming, ReactJs, Angular, Mern Full Stack, to Tableau- Big data.