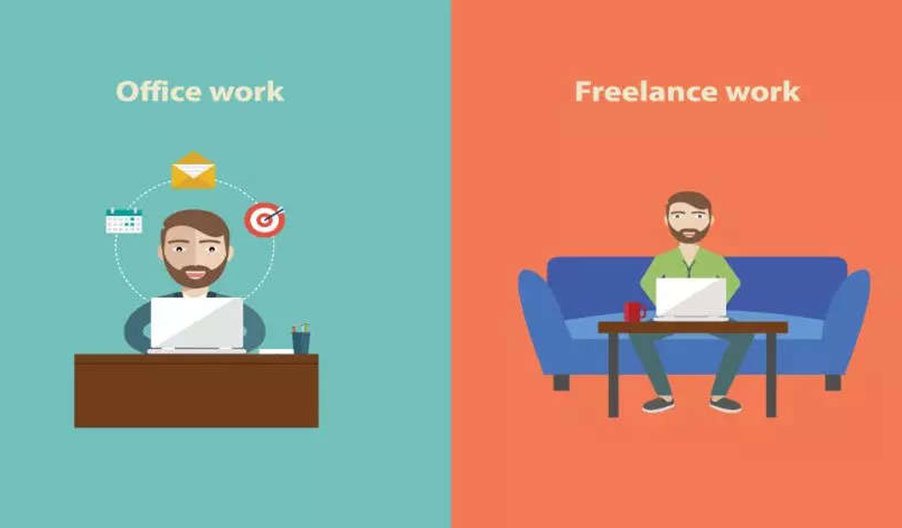 Web Developers: Is it Better to Work in a Company or be a Freelancer?
Developers with programming skills are in high demand to create websites, applications, and computer systems. Depending on your preferences, you can work as a freelance developer or as a full-time employee. It's important to understand how freelancers and full-time developers differ and are similar if you are interested in a career in development.
Our article provides an explanation of the differences and similarities between freelance and full-time developer jobs, as well as tips to help you decide which to choose.
Now, what does Freelance Developer mean?
Freelance developers are self-employed programmers who work on a variety of projects for clients. Programming projects are chosen by these professionals to write code for. The freelancer decides the hours they will work and how much they will be paid for each job. Due to their flexibility, many freelance developers work on a variety of projects. In many cases, freelancing is a great option for smaller companies that simply do not have enough work to justify hiring a full-time developer.
If You are just jump-starting your career as a developer, give this a read
quick steps to get into the IT industry as a fresher.
What a Full-time Developer role is like?
The term full-time developer refers to a programmer employed by an employer who creates and maintains software products. Their job entails analyzing user needs, coding, and testing products. Developers with strong programming skills are in high demand as technology advances. If you get the best coaching from any training centres for coding like ours, you can have a bright future as a developer. Among the industries in which developers may work are engineering, manufacturing, finance, insurance, and software publishing.
Freelance vs full-time developer
While freelance developers work independently on projects, full-time developers are employed by employers and often work in teams. Despite their differences, both jobs require similar skills, responsibilities, and ongoing training. In terms of similarities and differences, freelance jobs and full-time jobs are as follows:
Functions & Tasks
Programming languages like C++ or Java and many other languages are used by both freelance and full-time developers to create computer applications and software to meet specific needs. As part of their job duties, full-time developers may work on various ongoing projects for their company. The tasks a freelancer may complete vary from finding new clients to negotiating contracts to managing their finances.
Prospects for jobs
It is estimated that full-time developers will have a job outlook of 22% from 2019 to 2029, much higher than the average for all occupations. In addition, the agency anticipates spending more on security software to protect computer networks in light of the growing number of health insurance policies. There is also potential for freelance developers to benefit from this growth, though their job prospects are more dependent on their ability to find and accept new projects.
Payscale
Currently, the average salary for a full-time developer starts from 9.5 Lakhs in India and goes upto 18 Lakhs per annum. Location and experience are both factors that can affect this. Health insurance and retirement options are also common benefits offered by companies. As freelance developers are able to determine their own compensation rates, the average salary varies considerably. The more experience and skills freelance developers gain, the more money they can make.
Qualifications
Programming languages, database knowledge, and problem-solving abilities are often required for freelance and full-time development jobs. To reach new clients, freelance developers can also develop sales and marketing skills. The full-time developer, on the other hand, is usually able to work effectively with other developers as well as teams involved in the software development cycle as a whole.
This may also interest you: COVID-19 has altered the salary package and demand of IT Jobs.
The workplace
Freelancers can work remotely, including from their homes. Several freelance developers choose to work in coworking spaces, which share office features, such as printers and conference rooms, with other professionals. A full-time developer typically works in a team environment. In a company with a team of developers, each member shares ideas and updates the team on their progress in the same area. Depending on their employer's policies, some full-time developers may work remotely.
Academics
Software engineering and computer science are common bachelor's degrees required by companies that hire full-time developers. To gain relevant programming skills, freelance developers may choose to learn coding skills on their own or complete a professional certification. The skills can be developed by learning best coding courses with best approaches of teaching. A portfolio of successful projects can show potential clients that freelance developers without a bachelor's degree also have the expertise and qualifications to handle the job.
To Conclude,
The above aspects should help you decide whether a full-time or freelance web developer will better suit your company's interests. However, we at iHub Talent, the best coaching center for coding suggest that you start off your career as a full-timer and gain experience first and then probably you can switch.
We offer courses with 100% job placement assurance to guide you towards a brighter future. Among the courses iHub offers, there are many to choose from.