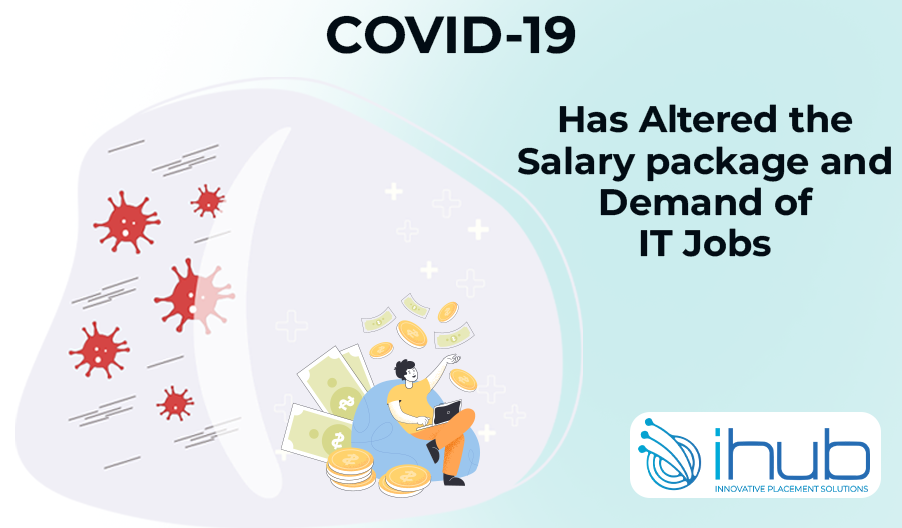 COVID-19 Has Altered the Salary package and Demand of IT Jobs
The well-known fact is that the pandemic has changed so many lives due to induced lockdowns resulting in drastic decline of Production and Employment which resulted in declineof Incomes in individual household. This uncertainty in past 2 years have led to many other possibilities and accelerated us towards the future of work that has arrived. Let us Understand how Information Technology has become an important aspect as the world is going fully digital.
The COVID-19 crisis though hasunleashed a holocaust across the world, the IT industry and employees across the world have just boomed in this Pandemic.
The pace of Technology is expected to accelerate in different areas.
The endorsement of cloud computing, big data science and other E-commerce careers are now becoming a high priority for Business leaders. Alongside, there is a high demand in Robotics and Artificial Intelligence. With a massive growth in these sectors, there is also an abundance of career opportunities in the IT jobs.
As the skills in demand across jobs change, skills gaps remain high in the IT industry years down the line.
Skills and abilities that are in demand
among employers and will be prominent by 2025 include analyzing and critical thinkingskills, problem-solving abilities, and communication skills. On average, companies estimate that around 40% of workers will require reskilling of six months or less and 94% of business leaders report that they expect employees to pick up new skills on the job.
The demand for technical professionals has skyrocketed.
Pandemics are not a new thing for us Humans, with every pandemic, we define a new normal and keep working through the emergency we always be in. In order to prevent our working life from stalling, we look for opportunities where we can sustain and have a Job. With everything digital now, the demand for technical professionals is soaring now and even the start ups in this industry are paying twice than what larger companies are offering. Large and small IT firms have been able to launch all-out efforts to acquire talent thanks to the huge capital inflows. Additionally, IT companies are competing to offer these skilled employee's jobs.
Learning and training online are on the rise but look different for those in employment and those who are unemployed.
There has beena quadruplex increase in the amount of people looking for Opportunities in the IT sector. There is a constant attempt of Learning courses online for better careers.The number of people in employment taking personal development courses has grown by 88%. The unemployed are more likely to focus on learning digital skills such as data analysis, computer science, and information technology. This altogether resulted in 70% of demand in the salaries of IT Professionals.
To Conclude,
IT is at its peak right now as employers continue to hire employees with excellent skills earned over the past year. There is no surprise at all that every industry is seeking qualified candidates who possess technical expertise. The industries with highest projected salaries are now IT and IT enabled Services, with almost a salary hike of 12.4% as per statistics.
So, if you are looking for developing a skillset that is useful for making a career in the IT industry, you should consider of developing the basic skills like
Basic Functional Knowledge of Working Tools.
Knowledge of Data literacy, Cloud Computing, Big data, etc.,
Social Media or Strategic Tools.
We at iHub provide you the best exposure with excellent faculty that will train you to prepare yourself for the best careers in the Information Technology Sector taking into consideration the demand IT professionals have today.